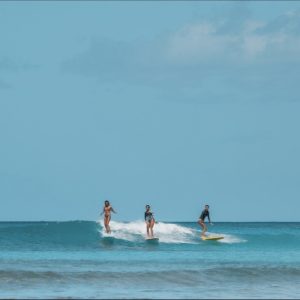 Top 10 places to visit in Maui Hawaii
Maui is a beautiful island in Hawaii that is known for its stunning natural beauty, diverse landscapes, and rich cultural heritage. From pristine beaches to lush rainforests and volcanic landscapes, there is no shortage of things to see and do on this island. Here are the top 10 places to visit in Maui:
Haleakala National Park – This national park is home to the Haleakala volcano, which offers breathtaking views of the island from its summit. Visitors can hike through the park's scenic trails, take in the stunning vistas, and learn about the island's unique ecology and geology.
Road to Hana – The Road to Hana is a scenic drive that winds through Maui's lush rainforests, past cascading waterfalls, and along the island's rugged coastline. Visitors can stop at various lookout points and hike to hidden waterfalls, making it a must-do activity when visiting Maui.
Kaanapali Beach – This beautiful beach is located on Maui's west coast and is known for its golden sands, crystal-clear waters, and excellent snorkeling opportunities. Visitors can swim with turtles, take a sunset sail, or simply relax and soak up the sun.
Lahaina – This historic town was once the capital of the Hawaiian Kingdom and is now a popular destination for tourists. Visitors can stroll along Front Street and check out the town's many art galleries, restaurants, and shops, or take a sunset cruise from Lahaina Harbor.
Iao Valley State Park – This beautiful park is located in central Maui and is home to the iconic Iao Needle, a towering rock formation that is sacred to the Hawaiian people. Visitors can hike through the lush rainforest, take in the stunning views, and learn about the valley's rich history and culture.
Makena Beach – This beautiful beach is located on Maui's south shore and is known for its soft sands and turquoise waters. Visitors can swim, snorkel, or simply relax and take in the stunning views of the island's coastline.
Maui Ocean Center – This aquarium is home to a variety of marine life, including sharks, rays, and sea turtles. Visitors can explore the exhibits, take part in interactive activities, and even go on a behind-the-scenes tour to learn more about the aquarium's conservation efforts.
Molokini Crater – This underwater volcanic crater is located off Maui's south coast and is a popular destination for snorkeling and diving. Visitors can explore the coral reefs and swim with a variety of marine life, including colorful fish, dolphins, and even whales during the winter months.
Ali'i Kula Lavender Farm – This beautiful farm is located on the slopes of Haleakala and is home to over 45 different varieties of lavender. Visitors can stroll through the fields, take a guided tour, or enjoy a relaxing spa treatment using lavender-infused products.
Paia – This charming town is located on Maui's north shore and is known for its laid-back vibe, unique shops, and excellent restaurants. Visitors can explore the town's many galleries and boutiques, grab a bite to eat at one of the local cafes, or take a surf lesson at one of the nearby beaches.
In conclusion, Maui offers visitors an abundance of natural beauty, cultural landmarks, and unique experiences. Whether you're looking to explore the island's stunning landscapes or simply relax on its beautiful beaches, Maui is a destination that is sure to leave a lasting impression. Maui's stunning landscapes are a nature lover's paradise, with lush rainforests, cascading waterfalls, and breathtakingly beautiful hiking trails. The island is also home to some of the world's most stunning beaches, where you can soak up the sun and take a dip in crystal-clear waters.
Whether you're an adrenaline junkie looking for adventure or simply seeking a peaceful escape, Maui offers a wealth of activities and experiences to suit every taste. With its unique blend of Hawaiian culture, natural beauty, and world-class amenities, it's no wonder that Maui is one of the most popular destinations in the world. A trip to this paradise island is sure to be an unforgettable experience that will leave you longing to return again and again.