Pepper eggs Masala
Pepper eggs Masala is a spicy and flavorful dish from the Indian subcontinent. It is made with boiled eggs and a blend of spices, including black pepper, which gives the dish its signature flavor. The dish is usually served with buttered toast or pav, which is a type of Indian bread. In this article, we will discuss how to make Pepper eggs Masala:
Ingredients:
4 boiled eggs
2 onions, finely chopped
2 tomatoes, finely chopped
2 green chilies, finely chopped
2 tbsp oil
1 tsp cumin seeds
1 tsp ginger-garlic paste
1 tsp red chili powder
1 tsp turmeric powder
1 tsp coriander powder
1 tsp black pepper powder
Salt to taste
Chopped coriander leaves for garnish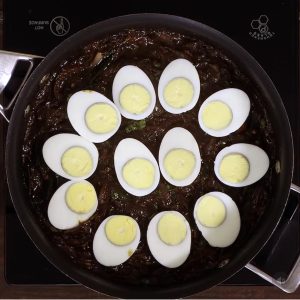 Instructions:
Heat oil in a pan and add cumin seeds. Wait until the seeds start to crackle.
Add the finely chopped onions and sauté them until they turn golden brown.
Add the ginger-garlic paste and sauté for a minute.
Add the finely chopped tomatoes and green chilies. Mix well and cook until the tomatoes are soft and pulpy.
Add red chili powder, turmeric powder, coriander powder, black pepper powder, and salt to taste. Mix well and cook for a minute.
Cut the boiled eggs in half and add them to the pan with the masala mixture. Gently mix the eggs with the masala to coat them with the spices.
Keep stirring the mixture until the eggs are heated through and coated with the masala.
Garnish with chopped coriander leaves.
Serve hot with buttered toast or pav.
Tips:
Use fresh boiled eggs for better taste and texture.
If you prefer a spicier Pepper eggs Masala, add more green chilies or black pepper powder.
You can also add other vegetables such as bell peppers, mushrooms, or spinach to make the dish more nutritious.
Use a non-stick pan for easy cooking and cleaning.
You can also add a pinch of garam masala for extra flavor.
Pepper eggs Masala is a simple and delicious dish that can be made in a matter of minutes. It is a perfect breakfast or brunch option that can be served with bread or as a standalone dish. The combination of eggs, onion, tomato, and spices makes it a flavorful and filling meal that is loved by people of all ages. The addition of black pepper gives it a unique and distinct taste that sets it apart from other egg dishes. So, give it a try and impress your family and friends with this easy and tasty dish!
Read on : Egg keema recipe-5 tips to make it easy