Egg Bhurji recipe and tips | Indian Anda Bhurji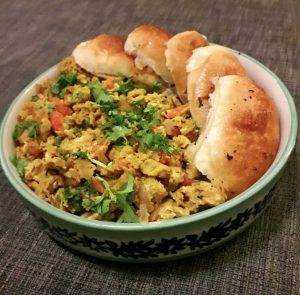 Egg bhurji is a popular Indian dish made with scrambled eggs and a variety of spices. It is a simple and delicious dish that can be served as a side dish or as a main course with bread, rice or roti. Egg bhurji is a great option for those looking for a quick and easy meal that is also nutritious. In this article, we will discuss how to make egg bhurji and share some tips to make it even more delicious.
Ingredients:
4 eggs
2 onions, finely chopped
2 tomatoes, finely chopped
1 tsp ginger paste
1 tsp garlic paste
1 tsp cumin seeds
1 tsp coriander powder
1 tsp cumin powder
1 tsp red chili powder
1/2 tsp turmeric powder
Salt to taste
2 tbsp oil
1/4 cup chopped fresh coriander leaves
Instructions:
Begin by cracking 4 eggs into a bowl and whisking them until the yolks and whites are well combined. Set aside.
Heat 2 tbsp of oil in a pan over medium heat. Add 1 tsp of cumin seeds and let them splutter.
Add 2 finely chopped onions to the pan and sauté until they turn golden brown.
Add 1 tsp of ginger paste and 1 tsp of garlic paste to the pan and sauté for a minute.
Add 2 finely chopped tomatoes to the pan and cook until they are soft and pulpy.
Add 1 tsp of coriander powder, 1 tsp of cumin powder, 1 tsp of red chili powder, 1/2 tsp of turmeric powder, and salt to taste. Mix well and cook for 2-3 minutes.
Now, add the whisked eggs to the pan and mix well with the masala mixture. Keep stirring until the eggs are scrambled and cooked through.
Add 1/4 cup of chopped fresh coriander leaves to the pan and mix well.
Serve hot with bread, rice or roti.
Tips:
Use fresh ingredients for better taste and texture.
You can also add vegetables like capsicum, peas, or mushrooms to the dish to make it more nutritious.
Adjust the spice levels according to your taste.
Use a non-stick pan for easy cooking and cleaning.
You can also add a pinch of garam masala or chaat masala to the dish for added flavor.
Adding a splash of milk to the eggs while whisking them can make the scrambled eggs even creamier.
If you like your egg bhurji spicy, you can add green chilies or a few drops of hot sauce to the dish.
Adding a dollop of butter or ghee to the dish before serving can make it even more flavorful.
To make the dish even more nutritious, you can use egg whites instead of whole eggs.
Garnish with more chopped coriander leaves for added flavor.
Egg bhurji recipe is a versatile dish that can be enjoyed for breakfast, lunch or dinner. It is a great way to add protein to your diet and is perfect for people who are always on the go. The combination of eggs and spices makes it a flavorful and filling meal that is loved by people of all ages. The addition of fresh coriander leaves gives it a refreshing taste and adds to its nutritional value. Egg bhurji can be served with bread, roti, or rice, making it a versatile dish that can be paired with different foods for a complete meal. So, try out this simple and delicious recipe and impress your family and friends with your culinary skills!
Read on : Egg salad recipe and tips to make your egg salad even better